This has nothing whatsoever to do with camping, although it is connected in a way so I had to include it. After a 12-month fight against cancer it finally became too much, and less than 48 hours after our weekend at Carrog my lovely brave Tiger sadly died at ten minutes past midnight in the early hours of this morning. I'd had several discussions with my vet about her illness and he had told me the signs to look for which would tell me she was in pain or suffering in any way, and although she had slowed down and spent most of her time sleeping, right up to last night she had shown none of them. Although over the last couple of weeks she hasn't been eating properly she has been doing well on the formula milk, but yesterday she started refusing even that. Then last night she fell over and couldn't get up again, and I knew then that today I would be taking her to the vet's for the very last time, but bless her, she didn't give me that chance. She was lying on the bed at the side of me and I was stroking her when she quietly slipped away, so at least she wasn't alone. Needless to say, I was in bits.
This morning I went to B & Q and bought a wooden box with a hinged lid, to use as a casket; I lined it with Tiger's favourite blanket and painted her name on the lid. She has been buried in my back garden next to her long-time companion Mouse, who I lost three years ago - they were always together until Mouse passed away so it seems right that Tiger lies in the same place. Putting away her bed and bowl later on were hard and yet again I shed more than a few tears. I've had many cats over the years and I've loved them all, but every so often there has been one that was just a little bit more special than most - Tiger was one of these, a very special cat, and she will be very much missed.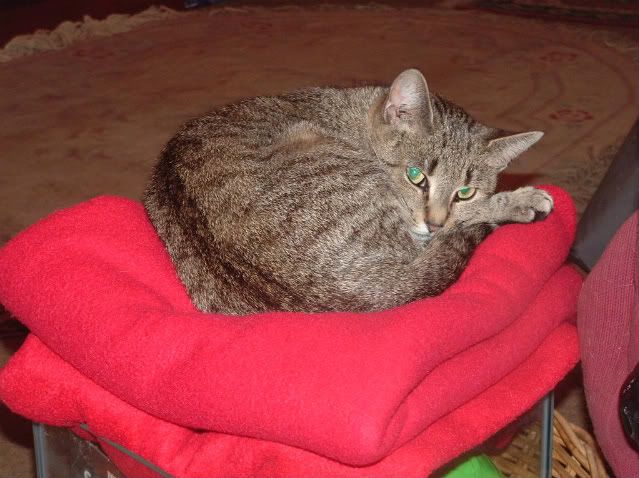 Softly in the evening
You heard a gentle call,
You placed your paw in the hand of God
And quietly left us all.
A heart of gold stopped beating,
Four little paws at rest;
God broke my heart but this I know -
He only takes the best.
RIP Tiger, sleep safely at Rainbow Bridge little one xx